Marching toward Madness
Mustangs looking to close out regular season, avenge earlier loss to Lakewood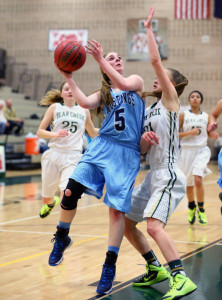 Hang on for a minute...we're trying to find some more stories you might like.
After losing a well-fought game, 60-47, to the fourth-ranked Lakewood Tigers, the Ralston Valley Mustangs girl's basketball team is now ranked sixth in the state.
Despite this loss, the Mustangs still have the third best record, 15-2, in the CHSAA 5A class conference, and are still in the hunt for a high seed in the state tournament and a Jefferson County League title.
So far this season, the girls have outscored their opponents 1,054-591, and earlier this month, junior Ashley Van Sickle had a quadruple-double.
Aside from the impressive statistics, the Mustangs have also been playing with a certain level of confidence in every game. When the team steps out onto the court, it is hard not to notice the level of dominance and dexterity the Mustangs play with.
They pass, dribble, and shoot better and faster than the team they're facing. The Mustangs compete whether they're winning or losing, and have all the ingredients to go far in this year's state tournament.
The girls will also get a shot at revenge against Lakewood, next Wednesday, Feb 10.
This time, however, the game will be at home, which could potentially be the X-factor that the Mustangs were missing last time they squared up against the Tigers.
If RV does, in fact, beat the Tigers in their next matchup, the team could finish with only two losses on the season. This is because the rest of their schedule is league games, and every other team they will face they have already beaten this year.
If the Mustangs win out, they would finish the regular season with a record of 21-2, which would almost certainly guarantee them a top-three seed in the 2016 state tournament.
Although nothing is certain in sports, with the way the Mustangs are playing right now their chances look good as the season begins to wind down.