The Lost Art of Dancing
In today's high school world, it's quite strange to slow dance anymore.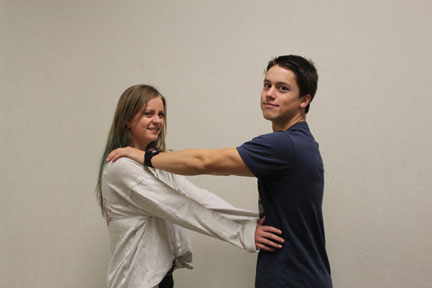 Hang on for a minute...we're trying to find some more stories you might like.
RV's Color Fusion dance is over, and Prom is soon to be upon us, bringing with it "grinding", the only known form of dancing teens seem to practice.
I remember when I went to homecoming freshman year with high hopes of boys asking me to dance and everyone twirling each other like a scene from a John Hughes film.
Much to my disappointment and horror, I entered a scene with girls rubbing up against boys they didn't even know, not a refreshment table in sight, and a DJ with a dismal playlist.
Homecoming was the realization of how very different high school dances are today, and what seems to be the lost art of dancing.
As I left the homecoming dance feeling dissatisfied and scarred for life, I decided that the next dance I would give this so-called grinding a chance since there didn't seem to be any way around it.
So, when Color Fusion rolled around I decided to take the plunge and get out there and dance with the first boy that asked.  Much to my surprise, a boy crossed the dance floor, obviously unable to resist the charms of my brightly colored neon tank, and asked me to dance.
Cotillion classes taught me many formal dances such as the fox-trot, waltz, and the jitterbug, all of which actually have you face your partner and stare into their eyes with incredible awkwardness.
So, imagine my surprise when I faced the boy who had asked me to "dance" only to find that he would spin me around, wrap his arms around my waist, and press his front up against my back–definitely not an arm's length away as Cotillion had taught me.
The song only lasted for two minutes but it felt like hours. I couldn't see my partner's face, so I had to stare awkwardly out into space while we swayed to the music.
When the song finally ended, the boy said thanks and left. I felt as though I had been grinding up against a brick wall for the past two minutes.
Well. I had given grinding a try only to discover that I wanted something far more intimate, or at the very least more personal, which is something that I think every girl wants.
Slow dancing, indeed any type of real dancing, forces people to interact with one another.
Dancing should be a full frontal contact sport.
It's easy to ask a random girl to dance when you're not even going to be staring at her while you're grinding. However, part of intimacy is making awkward eye contact with your partner.
When you're facing someone it forces you to talk to them; you can't just stare off into space or look down at the floor.
Yes, dancing with a stranger is awkward but that's what creates the moment of sociability–that intimate moment when you stare into your dance partner's eyes and see a real connection.
You aren't going to remember the girl you rubbed up against for all of two minutes, but you will remember the girl that engaged in a conversation, a little, snappy repartee.
The only way you find out if you have a connection with someone is by talking with them. I'm not saying you have to share your life history with every guy you dance with, but a little harmless banter and some flirtatious comments could lead to a new friendship or a new relationship.
You could be grinding up against the love of your life and not even know it because you didn't bother to strike up a conversation or even ask for their name.
Next dance why not dare to look into someone's eyes and actually engage in a little harmless, flirtatious banter.
It could be the start of a beautiful friendship.