A Happy Trip to Nationals
Cheer team returns from Nationals with great experience and great showing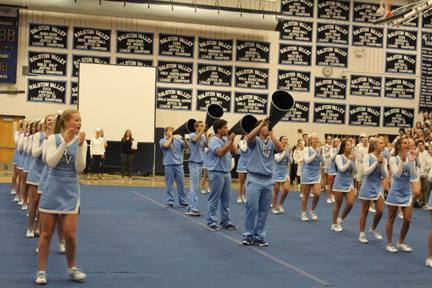 Hang on for a minute...we're trying to find some more stories you might like.
They say Disney World is the happiest place on earth.
But is it still the happiest place when your grades are dropping due to missing school and going to compete in Florida for Cheer Nationals?
The Ralston Valley cheer team said, 'Yes, it's definitely worth it.'
Recently, the Ralston Cheer team headed out on a sunny trip to compete at nationals in Florida. The trip to Disney World was a plus.
I am a cheerleader at Ralston Valley, and from my point of view, it was one of the most fun, most beneficial trips I've been on.
We got to stay at the All-Star Hotel in Orlando, Florida. It was a nice hotel with amazing service.
Besides us, thousands and thousands of cheerleaders also stayed at the same hotel, and all the other All-Star resorts. It had good food and an amazing atmosphere.
Though staying there was like a vacation, the cheer team had to work hard, because our second day in Florida was competition day. The most important day of all.
We were all very nervous but we all also knew we had it in us to be our best.
Competition day arrived and we were all scared, as seeing hundreds of amazing teams was very intimidating.
We practiced in a field of grass among a lot of other cheer teams, but had to just focus on us.
We had one more, 10-minute indoor practice prior to stepping on the main stage to perform.
We went out and did our very best. The cool thing about competing in Florida is when you enter out on the mat to perform, you run through a huge castle first.
The next day was Game Day. Game Day is where you perform a cheer, a sideline, and a fight song. We weren't as nervous for Game Day, but we still had to keep our focus.
This was a special day for me that I will not soon forget. Though I am a Ralston Valley cheerleader, on Game Day I was Maverick, our mascot.
Our regular mascot couldn't attend nationals so I volunteered to be the mascot. It was the scariest, yet most rewarding thing I've ever volunteered to do.
No other team brought a mascot like ours.
Just like the previous day, we practiced outside and then one time inside for 10 minutes.
We performed and afterward I felt amazing.
When it came time for awards to be handed out, the nerves returned.
We ended up getting sixth and beating Castle View, which was a huge accomplishment for us.
We walked away very happy and not regretting one thing.
The next few days we got to run around the Disney parks and that was a huge highlight of the trip.
I will never forget this trip, and I look forward to the other national trips to come.