The Last First Day
With the class of 2020 joining the ranks of Ralston Valley, senior Allison Carr reflects on her first day of high school.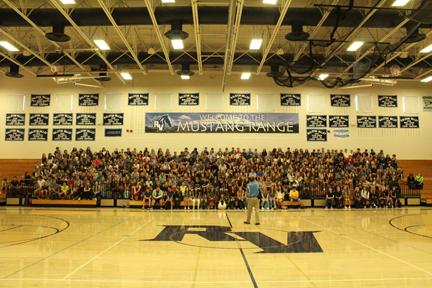 Allison Carr, Multi-Media Editor
August 23, 2016
Being a freshman used to mean getting shoved into lockers, or having your clothes stolen in the gym locker rooms by upperclassmen.  Many high school movies drill this very stereotypical ideal of being a freshman into our heads–but it's not the truth.  I am now a senior and as I look back at my freshman year nothing could be further from the truth–nothing during that time was traumatic or horrible.
During my Freshman Orientation, I remember thinking how overwhelming the grand entrance into the gym was with everyone clapping and cheering us on.  It was a nice display but at the same time I felt like a small fish in a pool filled with very large fish–I suppose that's why they call Freshman "fish."  Prior to my first day of high school I had watched every classic high school movie made with particular attention to John Hughes films.  Preparing for the torment I would face from upperclassman, but the torment, the teasing, the trauma never came.  High school is definitely not as horrible as the movies make it out to be.
"
High school is what you make it."
— Allison Carr
One of the biggest challenges my first day was finding friends to sit with at lunch, all my close friends had gone to a different high school.  Navigating the social experiment that is the cafeteria is no small feat!  I had to make new friends and sit with people who I knew, but did not know very well.  I did eventually find my group of friends when I joined newspaper.  While this may sound extremely cheesy, you will find your circle of friends when you get involved in various school activities that interest you–go figure.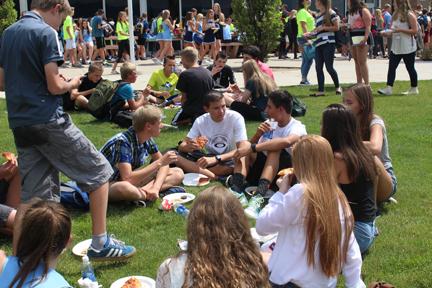 Every freshman comes in with similar fears: Will I find my classes?  What if I don't have any classes or lunches with friends?  What if I am late to class?   These questions are still relevant today, I know this because I have been a Mustang Mentor for two years now and freshman still ask me these same questions.  High school is what you make it, and if you just put yourself out there and have fun you may even enjoy yourself.  Everyone's experience is different, but if you walk into class hopeful and interested then the next four years will fly by.
As a senior, I have come to really enjoy my time in high school and I cannot believe how fast it went.  I didn't have to be captain of the cheer squad or homecoming queen to have a good time in high school.  Being a part of newspaper and being involved with various school activities made me perfectly happy. My advice to any freshman is just have fun and don't worry about the little things–spread your wings–this is your time to fly.