Coach's New Job
RV's new soccer coach has some large goals ahead of her, but knows that they are achievable.
Hang on for a minute...we're trying to find some more stories you might like.
With every new school year, there come new problems for everyone.
The stress of tests, homework, jobs, and sports are some of these issues students face.
Like students, stress also burdens teachers and coaches around the building.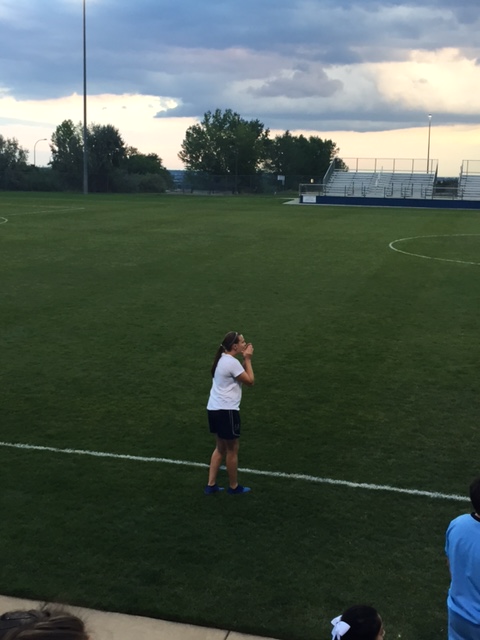 Jakob Fanning
For PE teacher Jamie Scarcliff, adding the role of boys varsity soccer head coach came as a bit of a surprise late in the summer after former coach Kyle Kazemi left Ralston Valley to pursue a collegiate opportunity at the University of New Mexico.
Fortunately, coaching isn't something new for Scarcliff.
"I've been coaching for about 13 years now," said Scarcliff, who served on Kazemi's staff previously. "I started when I was in high school, working with developmental players and assisting with goalkeeper training aging from 8-14."
There are challenges whenever you take something over for the first year.  Yet, when asked what she wants to change she replied, "I don't necessarily want to make the season different as we have several great qualities already instilled in our program."
Scarcliff says that she really wants to make the boys understand that they are a family.
"
I guess the best way to describe my coaching technique is intense."
— Coach Scarcliff
"We are going to win together," she said, "and we are going to lose together."
However, she isn't naive about the situation.
"There are several challenges as a new coach," said Scarcliff, speaking specifically about the transition from an assistant to the head coach. "The boys have transitioned fantastically and show me the upmost respect."
While Kazemi brought a pretty laid back demeanor to the sideline, Scarcliff sees herself differently.
"I guess the best way to describe my coaching technique is intense," she said.
Often times this can be hard on players because they are always giving it their all, and after a long amount of time it starts to wear you down.  But Scarcliff tries to balance this out. She wants to bring balance between setting high expectations pushing the Mustangs to their highest potential.
"Every coach hopes to inspire and motivate their players by example, by the use of verbal feedback, and through support."
But with all the preparation that the team went through, their first game against Castle View ended in a loss.
However, Scarcliff doesn't like to dwell on the past.
"We had some unfortunate situations which didn't end in our favor, but be remained strong as a unit and battled hard until the end," said Scarcliff, who brought on former Mustang soccer standout Crosby Lee to assist with the program. "I am optimistic moving forward."