Two Faced
Art assignment forces pair of students to draw one face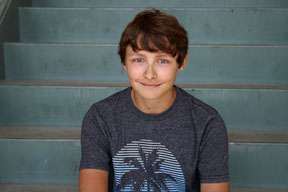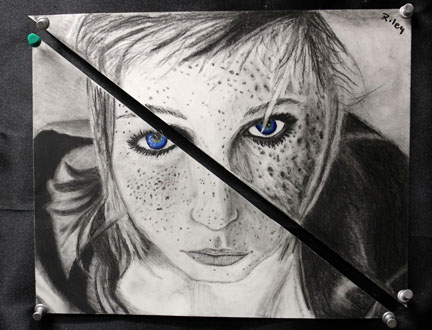 Art is difficult in general, but it's even more difficult if you have to draw the same picture with another person.
Mrs. Bonnie Colagrosso gave her kids a project where two people are given the same picture. One student draws one half of that image. Another student draws the other half.
"It's an ice breaker where they are handed a portion of a face," Colagrosso explained. "I hope they match up the picture as best as they can, but still stay true to their skills."
This project concept is very unique and helpful, providing students a chance to show their view and opinion of the photo they chose.
One of Colagrosso's students, sophomore Andy Yankovich, recently completed this project.
He described the project as helpful and creative.
Yankovich doesn't have a favorite artist but he loves to draw. His love for art came in middle school. He finds it to be very fun and freeing.
Yankovich listens to rock music to find his inspiration, and he finds it soothing and very helpful.
This project was made to get students back into drawing, and to show Colagrosso the different styles and techniques prevalent in her classroom.
The learning target is for students to show how they want to draw and express their style.
"This teaches them how to create dimension," Colagrosso said. "It helps them to branch out and will help them develop some of the harder skills later on (in the semester)."
The other half to Yankovich on thist piece was senior Rylee Knipp.
Though Knipp and Yankovich have different styles, they came together to make a beautiful creative photo.
The different styles came together to make a very unique and amazing piece of artwork. Their final version is a perfect example for a project like this.
"It was difficult to match because we both had a different perspective on the picture," Knipp said. "It was exciting to work with someone else."
This project is very beneficial if you're good at art, and also if you're not quite as proficient.
Working with a classmate who creates in a different manner helps each branch out of what is familiar to their "normal" style.