Online Class is now in Session
Students are venturing into the world of online education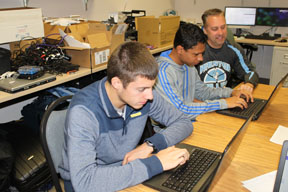 Hang on for a minute...we're trying to find some more stories you might like.
For those who are sick and tired of classroom rules, say hello to no rules online school.
Many RV students are choosing to go online for courses as opposed to the traditional classroom setting.
While many say that online classes promote much more schedule flexibility, some say that in the long run the courses do not help you build the necessary skills for college and may not provide the best learning environment.
Everyone learns differently and many students fall into one of three learning categories: visual, auditory, and kinesthetic (tactile). Students who choose to take online courses may do very well, however, their success is dependent on how well they manage their time and what type of learning style works best for them.
Ralston Valley Counselor Henry Pettit shared some of his thoughts on the success rate of online courses and how every student learns differently.
"Learning is diverse," Pettit said. "Some students are linguistic learners, some are hands on, and some are visual.  What I experienced as a teacher myself was I taught the way I learned.  I'm a visual learner, therefore that is how I taught."
In Petitt's opinion, "Online learning can reach a certain population in isolation, however to me learning doesn't happen in depth in isolation.  I think if your priority is quality, in depth instruction, I think you are going to be better off in a classroom setting."
Many students choose the online route for flexibility and what they think are easier classes.  However, online courses are not always the easiest route.
"The perception is that online learning is easy and some kids say that this is the easy way out," Pettit said. "When I think, in reality, if you are not disciplined and you don't have good habits, regardless of whether it's in school or out of school, online you are not going to be successful if you don't have those good habits. The struggle is going to be there."
Some students do not learn best by simply reading a textbook or staring at a screen.
"Learning is social," Pettit emphasized. "So, when you hear lots of different opinions that's how we learn, it's not necessarily what's in the book or what's online.  I think that in-depth learning comes from other people."
There are many reasons for choosing to take an online course, but the biggest reason for most students is that it frees up blocks of time in their overcrowded schedules.
"Flexibility is the biggest reason for going the online route in my opinion," Pettit said. "Outside of Jeffco, you can only take four online classes, so there is a limit to that flexibility."
In terms of college readiness, some say that online courses may or may not prepare you for college.
"Some colleges look at online students and say they are not college ready because they don't have the necessary skills to be in school and stay in school," Pettit reiterated. "Colleges can't evaluate the quality of an online course, so for students who have taken a majority of online courses, some colleges question whether this student is ready for college because they don't know how in depth the online course was."
Computer science teacher, Mitch Conrad, had a different perspective on the effectiveness of online learning.
"College courses are getting more and more online," Conrad said. "I know that the students who go through the course here will be much better off in college because they will have the exposure to online learning."
Conrad's computer science class at RV offers a lot more flexibility to students.
"The curriculum is online and there are no late penalties, so that allows students to work at their own pace," Conrad said. "However students still have the option to see me during ICE and get help.  If it was all online then they would never see me.
"I think the success rate is better because those students who do need face to face interaction have the option to do that as opposed to just doing everything online," Conrad concluded.
Trevor Dine ('17) is currently in AP Computer Science and he shed some light on what taking an online course entails.
"I think taking an online course does help with college readiness because it teaches you to manage your time and figure things out on your own," Dine said. "It's harder without the constant help. However, in the long run, I think it helps you become more independent.
"I chose AP computer science because it was the next level class that I wanted to take," Dine added, "but it also gives me another off block and more schedule flexibility since I don't have to always physically be in a classroom."
For some students, the online learning option was not the best choice.
Ben Gelman ('18) decided to take an online Spanish course over the summer.
"I had to drop the class because I found that I learned better in a classroom setting," Gelman said.  "It was hard taking Spanish online because I didn't have much help from a teacher, most of the coursework was from a textbook, and the online instructor was very hard to get a hold of when I had questions."
For Gelman, the face-to-face instruction is paramount, particularly for a class like Spanish.
"Spanish for me is easier to learn when I have other students to talk and practice with," Gelman said.  "If I have questions then I could ask the teacher and get an immediate answer as opposed to having to wait or figure it out on my own."
Pettit and most education counselors still believe in traditional classroom learning.
"Some kids can learn in depth online," Pettit admitted. "However, in online learning, I feel that the learning cannot be as effective as in a classroom setting."
Everyone learns differently and some online courses can prepare you for your future while others may not.
It all depends on how you learn and how disciplined you are.
Having more flexibility in your schedule can be good and bad, it all depends on how well you manage your time.
Online courses are a matter of individual choice but your success is determined by your style of learning.
So, what style fits you?