Taco Time for Review Staff
Lynsey Johnson ('18) crushed 11 tacos to win the Ridge Review Taco eating contest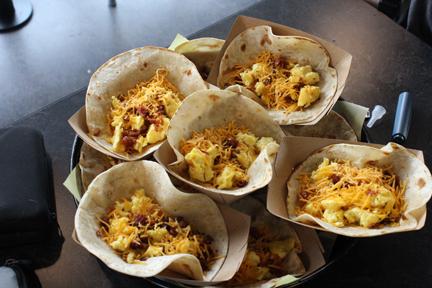 RV Staff Report, Staff Writers
December 14, 2016
Hang on for a minute...we're trying to find some more stories you might like.
Lynsey Johnson
Total Tacos Eaten = 11
(8 Bacon, Egg and Cheese; 3 Fried Chicken)

Photo by Hunter Burns
When I sat down at the table I was pretty nervous to start. I didn't know if I was going to ever want R Taco again. Turns out, I ended up being the champion by eating 11 tacos. That's a lot of tacos! I felt pretty good, because I really didn't prepare for this as much as my fellow classmates. This wasn't my first rodeo with an eating contest. The only thing I did to prepare was not eat dinner the night before. I was super hungry and I didn't even eat until I was full, but since everyone else stopped around 6-7, I decided my point was made. I'm only 5'2" and I only weigh around 100 pounds. As you can imagine, everyone around me was a little shocked at how much I ate; I was shocked myself about how much I ate! After the challenge of eating that many tacos, I actually felt pretty good. Everyone wanted to know how I was feeling and if I felt sick or not. But, I was surprisingly fine.
Kyle Fanning
Total Tacos Eaten = 4
(4 Bacon, Egg and Cheese)

Photo by Lynsey Johnson


"

I took one bite of number four and it hit me like a bullet train with a 10 ton bag of bricks on the front."

— Kyle Fanning

I walked into R Taco already dreading what was about to happen. I looked up at the board deciding on what I thought the easiest taco to eat was. I saw in bold letters Bacon, Egg, and Cheese Taco, and decided to make them my suffering for the next hour and 40 minutes. I sat down with three bacon, egg, and cheese tacos sitting in front of me waiting for the pictures and the word "Go".  I pick up the first taco, pinching the top, looking at the warm egg as it went into my mouth. I took bite after bite, matching my bites to Jack's sitting next to me. The first two went down like butter, not having to drink too much water from the clear flimsy cup on the left of my tacos. I took a bite from my third, starting to slow down, but still eating it relatively quick. I ordered two more bacon, egg, and cheese tacos. I took one bite of number four and it hit me like a bullet train with a 10 ton bag of bricks on the front. I started to down my water like a storm drain in a hurricane. I had to refill water twice with this one taco. Each taco felt like a whole taco by itself. After each taco, I took a huge swig of water. After I finished that taco I looked at number 5 with disgust. I swore to never eat eggs again. They felt like they were expanding in my stomach. I sat the fifth to the side, and downed another water cup. I couldn't even think about taking one bite without puking. I left to go to the car and made it back to school in time for lunch. The smell of pizza alone made me want to puke my guts up.

Jakob Fanning

Total Tacos Eaten = 8

(6 Bacon, Egg and Cheese; 1 Fried Chicken; 1 Brisket)

Photo by Lynsey Johnson
I started with three Bacon, Egg, and Cheese tacos and they went down with relative ease.  But, I made a mistake and ordered three more.  By taco number five, I was sick of eggs, and I had to force myself to choke down number six.  After that, my fried chicken went down easily, but the brisket taco was terrible.  It took forever to chew every bite, and every time I swallowed, it felt like it was about to come back up.  After I finally put it down, I hung up the towel, for the fact that I really didn't want any of it to come back up again.
Jack Puckett
Total Tacos Eaten = 5
(3 Bacon, Egg and Cheese; 2 Fried Chicken)

My very first visit to the restaurant R-Taco will probably also be my last. I like tacos as much as the next guy but the context of an eating competition kind of brings the taste out of things. I did alright─about what I expected from myself. After the first three egg tacos I developed a temporary hatred for the eggs, but I was satisfied. Had I not been on a mission to eat more I probably would've only eaten two tacos.

"

My very first visit to the restaurant R-Taco will probably also be my last. I like tacos as much as the next guy but the context of an eating competition kind of brings the taste out of things."

— Jack Puckett

The fried chicken tacos were very interesting and a nice variation from the previous trio. After those five, I was pretty full and set for the rest few hours hunger-wise. While I was slowly finishing my fifth taco I realized that sitting just a few feet away, Lynsey Johnson, was on track to hit double digits. She is nearly a foot shorter than I am, and I have to tell you there are few things more impressive than downing 11 tacos in a single sitting. Despite the slight nausea, it was an overall good experience. At least I beat Kyle.

Hunter Burns

Total Tacos Eaten = 4

(3 Bacon, Egg and Cheese, 1 Brisket)

I wasn't really expecting to compete in the challenge and mostly just wanted to chill with the magazine staff and enjoy breakfast/lunch. I definitely didn't eat the most amounts of tacos but I didn't eat the least amount either. I think the most fun part (besides a day outside of our normal class), was taking hilarious photos of the staff shoving tacos into their mouths. I was impressed with how much the class ate as a whole. I think it was around 50 taco dishes we had piled up in the middle of the table. There was an air of competiveness surrounding our table with a side order of some trash talking, all in good fun though. Overall, it was a fun challenge and I enjoyed observing, photographing, and barely taking part in it.
Hannah Bright
Total Tacos Eaten = 5
(5 Bacon, Egg and Cheese)

On December 2nd, our newspaper class walked into R Taco's, all hoping for one of us to win our taco eating contest. At first, I forgot there was even a contest; it had completely slipped my mind. I had no money and planned on just sitting there, talking to my classmates. However, about 5 minutes into it, Jakob graciously offered his card and gave me money to buy some. Once I received two Egg and Bacon tacos, I got right into it. After finishing the first two, I sat and let everyone wonder how I ate them so fast. Jacob told me to get so more so I then got up and bought three more and water. Around the last bite of the 4th one, I was starting to feel a bit queasy. However, I picked up the 5th one and braced myself. I took the first bite and it easily went down. But the next two felt like rocks were being shoved down my throat. However, I managed to get the last one down my throat. I drank all my water in one drink, just to balance out my stomach. Walking out, I realized I probably could've eaten more.
Ethan Jordan
Total Tacos Eaten = 6
(3 Bacon, Egg and Cheese; 2 Fried Chicken, 1 Brisket)

I was less afraid of this challenge then the Krispy Kreme challenge. I was really hungry so in a way I was actually looking forward to this challenge. My biggest worry going into this challenge was the fact that afterward I had gym class. I had been to R Taco before and I knew that the tacos were excellent, especially the fried chicken taco. I kept pace with Mr. Fleishman throughout the competition and ended up full but not too full for gym class with six tacos. I couldn't touch Lynsey though; her eleven tacos blew everyone away.
Allison Burback
Total Tacos Eaten = 3
(2 Black Bean & Egg; 1 Fried Chicken)
Walking into R Taco during third block, I knew I wasn't going to be competing in the challenge. I had completely forgotten about our taco eating, and had just consumed a huge bowl of amazing spaghetti during Culinary Nutrition first block. Either way, I was determined to eat at least a few tacos. For my first round, I was hungry for breakfast food so I went for the black bean and egg tacos and ate two of them. Never having been to R Taco, I was pleasantly surprised by the crisp tortilla and hint of spiciness. I waited twenty minutes until the lunch tacos could be ordered and went for one fried chicken taco as my already full stomach grumbled in anger towards me. Nevertheless, I downed the chicken taco in just a few mouthfuls and assessed that this was definitely my favorite. At this point, I couldn't eat one more bite so I decided to call it quits. Looking down across the table, I saw the rest of my classmates still in the middle of their challenge, especially Lynsey who was already on her sixth taco, and didn't seem to stop for another 20 minutes. Although I definitely wasn't a competitor in this challenge, I will be ready for the next one.
Tessa Petersen
Total Tacos Eaten= 5
(3 Bacon, Egg and Cheese; 2 BBQ brisket)

Tacos. They have never been a favorite of mine, and as the reigning champ of the last eating contest the Review held, I knew there were high expectations for me. Purposely, I did not eat breakfast that morning, but nothing would have made me hungry enough to eat more than five tacos. I also am someone who does not like breakfast burritos, and the bacon & egg tacos tasted just like a breakfast burrito. The egg on the tacos was overwhelming. Hoping I could make it through four was not what my gag reflex had in mind for me. I made it through three bacon and egg tacos, taking a long break afterwards. That's the thing about tacos; you can eat a lot of them if you give yourself breaks. After about 10 minutes I ordered two BBQ brisket tacos. Once they came to the table, I picked off the jalapenos and took a big bite of one taco. Nothing prepared me for the BBQ sauce to be spicy as well. Soon, I was able to get the rhythm down of taking a bite of a taco and then taking a big drink of soda so that the BBQ sauce was washed out. That was the end of it, and overall I was proud of myself for eating five tacos because I normally eat two. Then I hit the school campus and wanted more because I was hungry again. Yet, once I sat in my seat for English, the tacos stated turning in my stomach and my egg gag reflex started to happen for the rest of the day.
Jeff Fleischman
Total Tacos Eaten = 6
(6 Bacon, Egg and Cheese)
Truly, what struck me most as we walked into R Taco for our Taco Eating Challenge, were the butterflies that started circling my stomach. Seriously, I could not believe that I was actually nervous about sitting down with the staff and being nervous about it all. Eating does not make me nervous, but competition certainly does, and this was unlike any meal I've ever taken part in. I started off by ordering three breakfast tacos as we began the competition at 9:30 a.m. The first three tacos went down quite smoothly. I love breakfast. I love eggs. I love bacon. And I love cheese. So what better way than to enjoy some breakfast tacos that combined all the aforementioned ingredients. Topped with a little tomatillo salsa, the tacos were delicious. I threw down those three tacos in about five minutes. I went back to the counter, ordered three more and anxiously awaited Round Two. The nerves have subsided and my appetite was still healthy. Tacos four and five went down in a very similar manner as the first three. However, about half way through the sixth, I began realizing that our stomachs have an egg capacity, and I was reaching my limit. I made it through the sixth, but the last bite quickly made me realize that if I had one more piece of egg, I was going to go into full reversal mode. Not wanting to show any weaknesses beyond quitting, I just stopped eating. In retrospect, I don't think I could have touched Lynsey's 11 taco outburst, but if I would have mixed and matched some more, I think I could have done two, perhaps, three more tacos.