An Injury-riddled Ride to College
Sage Heffley shares her first-person account of how injuries and surgeries curtailed her senior soccer season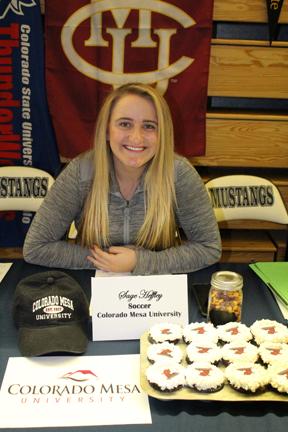 Sage Heffley, Staff Writer
February 17, 2017
If you're an athlete, the most exciting time of the year is when your selective sport rolls around.
Pre-season. Work-outs. Team dinners. You look forward to all of it.
This year has been incredibly hard for me. Late this summer, I went to Colorado Mesa University for a week long soccer camp. While playing, I would lose feeling in my legs, and NOT the kind of losing feeling where you've been running too long and your legs are numb.
It was the kind of numbness that started at my hips and I couldn't tell if I was moving or if I had the ball at my feet. I was completely without feeling, and it was not the best experience.
After talking to my coach about it, he told me to get checked out when I returned home. So, I did what I was told and made my way to the doctor within that first week back home.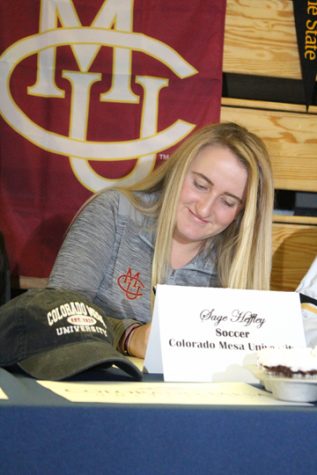 The pain was coming from my hips, so we started there. The doctor that I was seeing specialized in hips. I explained what was wrong and then he wanted to move my hips in different directions to see if he could feel any kind of restriction.
With one movement, moving my knee to my chest, I was in excruciating pain. He kept pushing, trying to feel for different movements or pops.
After the right leg, he repeated the movements on my left leg.
I sat up, and immediately Dr. Ellman said, "So, let's put you on the schedule for my next surgery opening. I'm going to set up an MRI," the doctor continued, "but I know your labrums are torn and since you are going on to play college ball next year we need to get these surgeries done as quickly as possible."
Right then and there, my world flipped. Surgeries on both hips would mean I would be missing out on the rest of my club season, tournaments, preseason for high school, and the entire high school season.
The next step was telling my coach at Colorado Mesa University and hoping that there would be no issue.
Today, six months after surgery to repair torn labrums in both hips, I have yet to run.
I have two more weeks until I am able to jog, and then hopefully it will only accelerate from there.
I know that the surgeries will pay off, but I'm struggling because I know it will be a long journey to be match fit and to be level with all of the other players at Mesa.
Injuries can be difficult and something that you dread, but the most difficult aspect of this injury is that it's occurring right at the beginning of the most fun and enjoyable seasons of all.
I was fortunate enough to be verbally committed to Colorado Mesa University, and my injury will not affect the outcome of my collegiate future.
It has been extremely difficult to feel like myself this year, because I have gotten the title of being an "athlete" stripped away, and the one thing I love to do – play soccer – has been taken from me.