Up to Date: Boy's Cross Country
Mustangs tally 8th-Place finish at prestigious Liberty Bell Invitational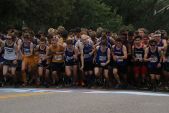 Jeff Fleischman, Adviser
September 11, 2017
Looking Back:
September 8: Liberty Bell Invitational, Eighth Place, 218 Points
Top RV Results:
15. Nick Nowlen, Sr., 16:35.00
20. Gavin Jones, Sr., 16:40.00
34. Kyle Sterns, Sr., 17:05.00
65. Benjamin Brandt, Jr., 17:58.00
84. Kiesen Adams, Sr., 18:31.00
88. Grant O'Shea, Sr., 18:35.00
91. Caden Gigstad, Soph., 18:38.00
Looking Ahead:
September 15, Varsity Invitational @ Harold Lutz Athletic Complex, Arvada, Colorado
Performance/Performer of the Week: One of the biggest cross country events of the year, the Liberty Bell Invitational hosts over 80 teams. For the Mustangs, this year's event was very much a success. Of the 14 boys who competed across two divisions for the Mustangs, all 14 improved their time from the year's first meet. Nick Nowlen ('18) and Gavin Jones ('18) dipped below the 17-minute mark, and Kyle Sterns ('18) is very close to getting below this same milestone. "I think it was a huge success," said assistant coach Lara Vette. "Finishing 8th among all those teams is great. And our boys ran so well." The team will be back on course this Friday, Sept. 15, at the Lutz Athletic Complex in Arvada.