Hitting all the Right Notes
Choir set to perform first concert of year this week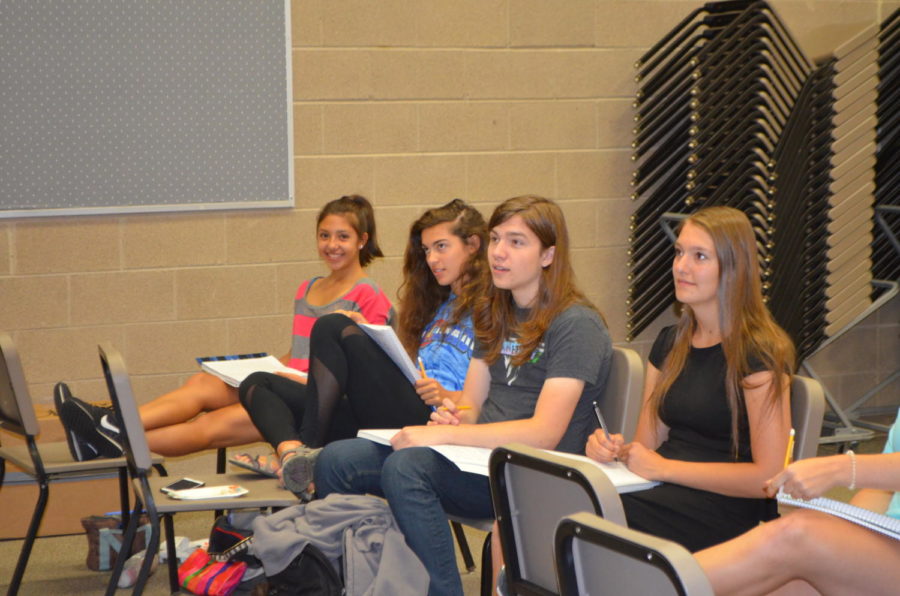 Allison Burback, Staff Writer
October 6, 2017
Every year, hundreds of exciting activities take place at Ralston Valley. Sporting events, art clubs, musicals, and a variety of other events occupy a large portion of student life.
Often overlooked is the choir department, that boasts seven outstanding choirs.
Concert Choir, Heaven Sent, Manly Scent, Men's Choir, Sapphire, Shades of Blue, and Women's Choir make up the music department, with numerous students involved to ensure that Ralston Valley remains among the top performers in the state of Colorado.
Concert Choir, Men's Choir, Sapphire, and Women's Choir are more traditional, and these facets of the music department perform "traditional concert pieces and new works" for audiences.
On the other hand, Heaven Sent, Manly Scent, and Shades of Blue comprise a smaller and more focused group of individuals. Heaven Sent and Manly Scent are choirs that focus on more modern music, including A Cappella and pop, allowing individuals a chance to break away and find songs that appeal to them. Shades of Blue is also
RV has "created a strong tradition of excellence in performance through all the music ensembles, musical theater productions and numerous other concerts and performances."
This special section of the student population has historically performed in prestigious festivals in order to bring prestige to the music department. This includes shows in thrilling places such as Disney World, where a group of students travels to every other year to sing in the park.
The music department also traveled to Venice, Florence, and Rome, Italy, in 2015. Forty-five choir members sang at High Mass in St. Peter's Basilica in the Vatican the Saturday before Palm Sunday.
Headed by Jeff Talley and assisted by his daughter, Mackenzie Talley, the RV music department works extremely hard throughout the year. All of the choirs sing different music that must be thoroughly prepared for by the time a concert or event comes around, an extremely time consuming process. Entire class periods and four hour long rehearsals take place in order to achieve perfection.
Concert Choir has an upcoming concert next Tuesday, October 10th. Mady Moran ('18) describes everything that goes into creating a perfect night.
"We get our music and start from there," Moran said. "Then, we sight read and go into really learning it. Ms. Talley likes to have a meaning behind the music too and know why we're singing it. We're singing a song about Emily's Creed and making the world a better place and we talked about what happened in Las Vegas"
Even with some of the stresses of planning a musical event, Moran completely enjoys her participation in the Concert Choir.
"I kind of found my people here," Moran said. "All of my friends are in choir."
Clarice Reiner ('18) adds on that, "Choir is an escape from my everyday life. It's truly exquisite and life changing."
The students that participate in the music department create an exciting environment that aids individuals in finding their passion in what they truly love. Although sometimes forgotten about, Ralston Valley music has a profound impact on the entire student body.
The Mustang Choirs will be performing on Tuesday/Wednesday evening, Oct. 10/11, from 7-9:30 p.m. in the Auditorium.