Up to Date…Girl's Basketball
Mustangs look to rebound from tough home loss to Lakewood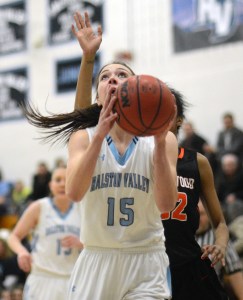 Spencer Ackerman, Staff Writer
January 31, 2018
Hang on for a minute...we're trying to find some more stories you might like.
Girls Basketball (Currently 14-2)
Looking Back: (Jan. 12 – Jan. 26)
Jan. 12: RV 61, Chatfield 44
Jan. 17: RV 50, Dakota Ridge 28
Jan. 20: RV 55, Columbine 36
Jan. 22: RV 76, Westminster 17
Jan. 24: RV 67, Arvada West 30
Jan. 26: Lakewood 50, RV 44
Looking Ahead: (Jan. 31-Feb. 7)
Jan. 31: vs. Bear Creek
Feb. 2:  vs. Fruita Monument
Feb. 7: @ Chatfield
Coach Speak: For the better part of the last 10 years, the Jefferson County 5A league title has been decided between RV and Lakewood. So last Friday's home game against the Tigers would be instrumental in crowning another league champion. After winning the first game between the two teams by 14 points just after the holiday break, the Mustangs were unable to put together the season sweep, losing at home to the Tigers, 50-44. "We are going to have to deal with pressure better," Ralston Valley coach Jeff Gomer told Dennis Pleuss of chsaanow.com. "Early we were attacking the basketball, but as the pressure ramped up we started playing sideways and backwards." If the Mustangs and Tigers both win out their remaining league games, they will share the 5A Jeffco title. RV returns to the court tonight, at home, against Bear Creek.