LSD finds way inside RV
More than a dozen students were expelled or suspended for distributing, purchasing, and/or using acid in school
When rumors started to make their way through the hallways of Ralston Valley, it was difficult to believe that students were being questioned for the distribution and use of LSD on school grounds.
Chemically, LSD, more commonly known as "acid", is a mood-altering drug that has made its way onto the RVHS campus.
And the rumors that were making their way through the hallways were proven to be factual when over a dozen RV students were either expelled or suspended for either selling and/or using the drug on campus.
"A few weeks ago, we had students at RV who bought, sold, used, or were under the influence of drugs," said RV principal Mr. Gavan Goodrich, now in his fourth year at RV. "I can't tell you for sure what it was – I haven't done toxicology – but it was something that we thought was LSD."
Adding to the severity and concern around these expulsions and suspensions is that the majority of students involved were either 9th or 10th grade students at the school.
In his weekly message to the RV community, principal Goodrich said, "I want to take the time to inform parents and guardians of some concerning behavior we are working through at Ralston Valley…This week, the school disciplined more than a dozen students for buying, selling or being under the influence of LSD."
Although high school students are stereotyped for utilizing recreational drugs, Ralston Valley students being no exception, many minors aren't involved with such extreme hallucinogens like LSD.
"
What concerns me the most is that students are taking something that they don't necessarily know what it is. My biggest concern is student safety, and when they take a drug that isn't prescribed to them, that's concerning."
— RV Principal Gavan Goodrich
Marijuana, cigarettes, and the newest trend of "vaping" are all common substances, with usage amongst a decent amount of young adults.
Conversely, LSD is on a completely different level, as it is a drug that heavily alters awareness of one's surroundings, perceptions, and feelings. According to the Foundation for a Drug-Free World, LSD is "odorless, colorless, and has a slightly bitter taste." Whether its ingested in tablet form or liquid form, "LSD leads the user to the same place – a serious disconnection from reality."
Ralston Valley School Resource Officer, Blaine Engdahl, first found out about this occurring within the school when another student found out about the drug use and alerted a teacher. The teacher then immediately reported the incident.
About 24 people were interviewed in total," Engdahl explained, "whether that be witnesses or people involved."
After all the interviews were completed, "about 16 kids" were punished for either possession, using, or selling the LSD, Engdahl confirmed.
"School has set disciplines for use or possession and we followed these guidelines," Engdhal said.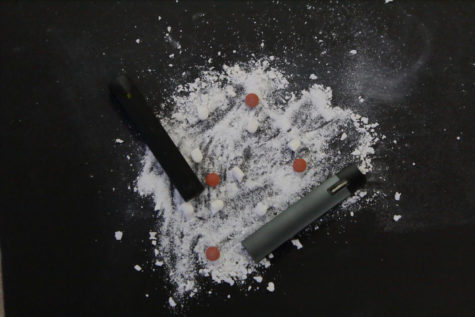 Parents of offending RV students were informed via phone and were asked to come to the school to pick up their child.
"Parents with kids under the influence were told to come get their kids and take them to the hospital or Ralston Valley would call an ambulance," Engdahl said.
Perhaps, according to Goodrich, parents should talk to their children explicitly about potential dangers.
"Parents could communicate about the dangers involved with drugs," Goodrich said. "It's not a friendly act for some to give you or sell you drugs. We all need to be proactive."
Assistant principal Mr. Mark Litzau oversaw a vast majority on the discipline side.
This involved suspension for those using acid and possible expulsion for those distributing the drug.
"The drug offense is pretty prescribed by the (district) conduct code," Litzau explained.
Typically, drug use is penalized with a three-day suspension while distribution of drugs on school grounds ultimately leads to expulsion.
However, with 16 kids being disciplined, Litzau added that, "We have already discussed that if that (drug use) continues we will change the policy. I'm not able to do some of my job because I'm suspending a lot of kids."
After the recent incidents of heavy drug use coupled with the "vaping" epidemic, students have also heard that bathroom doors will be coming off so that teachers can easily see any illegal activities occurring.
Engdahl and Litzau corroborate this, and say it is definitely a possibility in order to keep students safe.
Ralston Valley has maintained a prestigious position in the community for many years and the new influx of LSD, among other drugs, has created an undeniable and unenviable problem for administrators and other students.