The Most Beautiful Time of the Year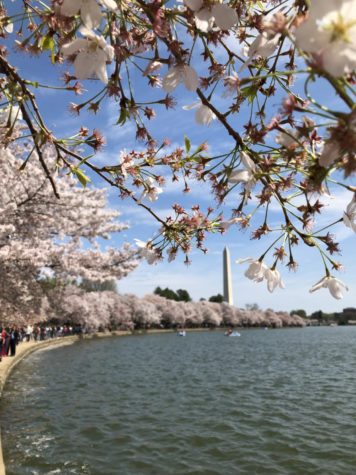 All across the country, spring has sprung; birds are chirping, temperatures are warmer and nature is starting to reemerge. For some places, spring is widely celebrated and comes earlier than others. Like in Washington D.C., the cherry blossoms have just passed peak blooming, but in Arvada, spring is just getting started.
The Washington D.C. Cherry Blossom Festival and tradition commemorates the gift of 3,000 cherry trees from the mayor of Tokyo in 1912. President Taft and his wife Helen "Nellie" Taft received a proposal from local author and member of the National Geographic Society to plant cherry trees around the perimeter of the Tidal Basin. The First Lady approved the proposal, and the Japanese consul was informed of the plan and donated 2,000 trees in 1910. The mayor of Tokyo, in 1912, then decided to donate more trees, bringing the number up to approximately 3,000 cherry trees. The annual cherry blossom festival occurs from March to April, to commemorate the gift and the friendship cultivated between Japan and the U.S.
Today, the cherry blossom festival attracts roughly 1.5 million people annually to marvel at the beautiful blossoms. There are different types of cherry trees scattered around D.C., like the Yoshino Cherry, Akebono Cherry, and Weeping Cherry, as well as a plethora of other blooming trees and plants. It's a truly breathtaking scene: the soft pink blossoms floating through the air, the faint rustle of the tree branches and the incredibly green backdrop against the Potomac.
People come from all over the country for the cherry blossom festival, like Stephanie and Richard Williams from Texas, who said, "It's our first time… the petals all over the place is like snow in the spring. It's beautiful."
Goldie and Winston Harris from Atlanta, Georgia agreed, saying "The colors are magnificent and it's just so peaceful."
Even Washington D.C. local Angel Garcia said, "Everything is just so beautiful" and "It's fun to see the different kinds of people that come every year."
The colors and peaceful atmosphere all make it obvious that spring has sprung, at least for the mid-Atlantic.
Spring in Colorado is a bit behind, but many of the people who visited the cherry blossoms this year all agree that it's a marvelous sight and that if given the chance, definitely go see them!