Two-Hour Delays: Godsend or Pit of Doom?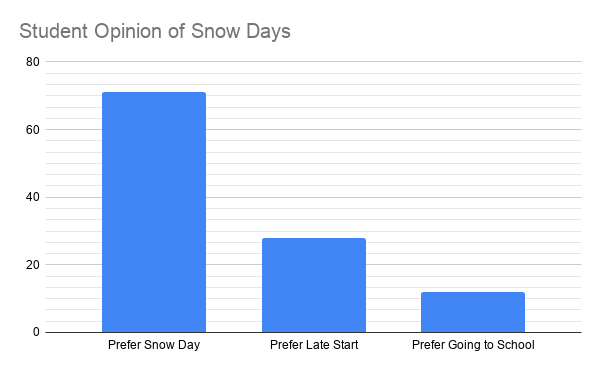 We've all been there: waking up on a beautiful snowy morning, seeing at least a foot of snow on the ground, and then finding out that instead of a well-deserved snow-day, it's just a two-hour delay. That feeling is one of the most disappointing feelings, but do some people enjoy two-hour delays more than others, or is it generally accepted that these short delays are disheartening, and students and teachers alike do not want them
Two-hour delays are given for when the snowstorm isn't extreme and the safety of students and staff isn't threatened, according to the Jeffco Public Schools website. Factors such as buses being able to run, providing warm meals for students, and the daily forecast are taken into account, as well as the general conditions of the roads. Many argue that Jeffco only takes certain areas of its district into account when deciding on closures, delays, or nothing at all. 
"There could be a record-breaking snowstorm in the south of the district while there are only two inches in the north, and Jeffco would do nothing about it," said senior Cameron Lay (who frequently drives his brother to and from school). "I feel like Jeffco gives two-hour delays to try and reach a compromise, but in all honesty, they should just call a snow day."
Some prefer delayed starts to snow days though, like Arapahoe High School English teacher Jeanie Bleyle-Lay. "It gives you time to sleep in and get ready in the morning, as well as making the snowy commute to work," she said. "Also, I find that the students enjoy them in the end, as they don't have to make up their work later or have to go an extra day of school at the end of the year." 
Lay, though, still holds his ground, "Yeah, I can see how it would benefit students in the long run, but I like to think of the short-term effects and treating a snow day like a mental health day."