2020 Ralston Valley Boys Varsity Tennis
Ralston Valley varsity tennis just finished their adjusted season due to Covid-19 and we learned more about this team. First off you have a team, a team you practice with, and love. 
"The fact that just about every singl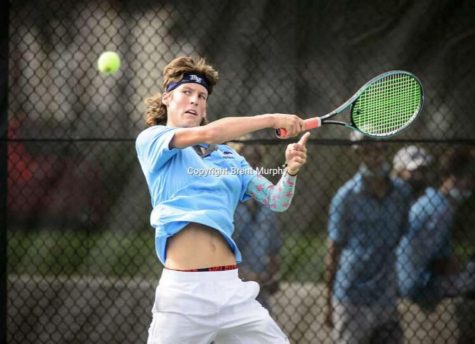 e person on the team loves each other." Senior and number 1 singles at Ralston Valley Dayton Fisher said, "We all hung out together and it was less about tennis and more about having fun." 
Next, its kids in high school, so, of course, they are going to goof off. 
Senior and number 2 Singles Aiden Muledener recalls these memories from past years, "My favorite memories from the team were messing around in Grand Junction and cheering each other on". 
Unfortunately with Covid-19 affecting rules and regulations, the tennis season had to change. While the players express their thankfulness to get to play at all they also are disappointed without having a regular season. 
Head Coach Luke Snyder says, "It made it short and forced the team to make the best out of the season which ended up being an amazing season but it wasn't ideal." 
Tennis, a relatively low contact sport, only changes rules such as each team needing their own can of balls instead of one can for both teams, and masks and social distancing required for spectators, coaches, and players off the courts. 
Coach Snyder said, "Even through a global pandemic, this team was determined to have fun, and this was definitely a core value on the team."  
When asked about what they are going to take away from his experience the 1 and 2 singles players have very similar and meaningful answers, Fisher said, "No matter what you do in life try and make sure having fun is a large part of it and that you enjoy the people you are surrounded with."  Muledener said, "That you can have fun anywhere, anytime, as long as you have the right attitude, and the one true life motto, 'Look good, feel good, play good.'"