Dozens of Laughs
RV Drama brings Cheaper by the Dozen to theater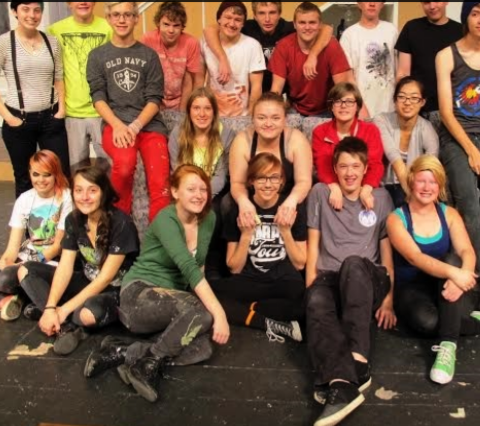 Hunter Burns, Staff Writer
October 21, 2016
Hang on for a minute...we're trying to find some more stories you might like.
The school play this year is one that is sure to be a big hit!
The play, Cheaper by the Dozen, is a play based on a real family in the 1920's. Unlike the 2003 movie, the play focuses on the dynamics of the real family and, the in and outs of running 12 kids.
Mr. TJ Thomas, the drama teacher at Ralston Valley will be the director of the play.
In his own high school life, as a sophomore, Thomas was talked into auditioning for a play and fell in love with theater from there on.
He got into the technical side and then wanted to be an educator in the study of acting.
"I'm most looking forward to working with a range of kids of all different ages and the comedy bits that this play includes," Thomas said. "I often laughed and was entertained when reading this and enjoy the deviousness that the kids get into."
Juniors Maddie Smoker and Becca Weisel may not be starring in the play, but the work they do behind the scenes, as part of the RV Stage Crew, makes everyone in front of the curtain look so good.
Both have been hard working members for many shows now and love working on and designing sets for the plays.
"Everything about (crew) is great," Smoker said. "It builds character and it lets you learn awesome skills that you can't learn in a classroom.
"I can really be myself in crew which is something that you can't always do," Smoker added. "And, honestly, we are one big family. We go through it all together and the friendships I've made in the crew are really unique."
Weisel's decision to get on crew is familiar to Smoker and Thomas.
"I started on stage crew because I've always loved theater and I just wanted to be involved," says Weisel.
Both girls are excited for this year's season of building and for the "nitty gritty building" that comes along with it.
All in all, the members of the play and the people who put it together are a family who bond over lines and lights and costumes and are sure to create another masterpiece for us to enjoy.
Don't forget to go see Cheaper by the Dozen! The play will run for three nights, beginning Thursday Nov. 3.