Warren Tech is Preparing Students for Future Careers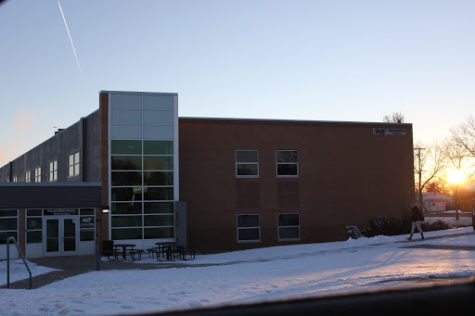 Many people may think that students take Warren Tech to get out of regular common core classes, but little did they know the enormous amounts of learning and experiences Warren Tech classes offer. Warren tech is an ongoing program founded in 1973 by Pi Warren who wanted to help students gain access to the best career opportunities. It now offers over 28 programs and students can earn college credit hours. These classes are preparing Warren Tech students to compete in today's highly competitive society.
"Warren Tech is giving me early college credits," Warren Tech Fire Science Senior Ethan Beehler said. "Yes, I would recommend Warren Tech because you can take a class and learn what you want and not what you are forced to learn in high school."
Fire sciences are one of the many intriguing programs offered by Warren Tech. Future Firefighter Beeler practices putting on all the necessary equipment a firefighter wears. He regularly wears the heavy equipment while running and climbing preparing him for future emergency situations.
"It is a lot of hard work and I am very hot most of the time, but I am gaining experience to prepare me to become a firefighter," said Beehler.
Preparing students for the future is a big motto at Warren Tech. Warren Tech puts students into experiences that prepare them for their future job. In traditional high school classes, students are mainly taking tests and doing homework on paper. They rarely participate in hands-on activities in the subjects they take. Warren Tech's programs give its students firsthand experiences in that certain program. This gets many Warren Tech students ahead in their careers because they already have practice in their desired field of work.
"I am getting a good jump on what I want to learn in the future," outdoor studies student senior Levi Lawrence explained. "Yes, it is hard but I am getting practice in my field of work and I am ahead of many other students."
Many college majors are offered as programs at Warren Tech. College majors such as Criminal Justice, Sports Medicine, Nurse Aid, Forensic Sciences and Computer Science can help you prepare for your future job. Warren Tech also offers an alternative for students who are not going to college classes. Classes like automotive repair and power equipment can prepare students that want to go to trade school.
"Picking the program you want to participate in at Warren Tech is a lot like picking your major for college. It is to prepare for your future," senior Beehler said.
The perception of Warren Tech is that it is easier than taking classes at the local high school. However, in reality, it is not the case. These classes offer a new experience for students and may be surprised that they are more challenging than the traditional high school class.
"The perception of students at Warren Tech is they are the high school dropouts who don't have the grades to go to college. In reality, college isn't for everyone and Warren Tech gives better opportunities for jobs than our high schools today," Senior automotive repair Student Zach Bronson said.
Warren Tech is a great alternative for many students in high school. It helps them figure out what career they want to pursue in the future. Students who are looking for hands-on experience in a specific job or looking for another option than going to college can pursue Warren Tech. Students that are better tactile learners than test takers, will excel at Warren Tech with the firsthand experience.