Family Blues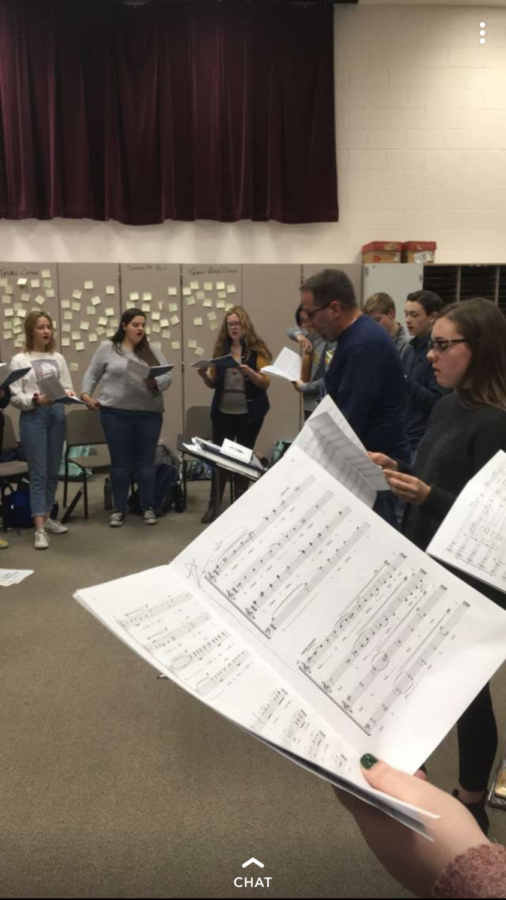 Casey Holtzman, Editor
February 20, 2019
Shades of Blue is the top tier choir at Ralston Valley and draws together a fantastic group of talented students that have learned to come together and lean on one another, much like a family would. Various kinds of people from athletes, to full-time musicians, to brainiacs alike are a part of this group that loves and support each another.
The journey to join Shades of Blue starts in freshman year of high school, where everyone starts at the basic choir level. From there, students can audition to be in Shades through a selection process. With a chance of not making it, students have to consider why they desire to be part of such a prestigious organization.
"I joined Shades of Blue because it seemed like the natural next step in my vocal career," said senior Charlotte Keys. "It was something I aspired to be a part of since freshman year and it's surreal to think that I'm part of the group."
With such high praise for the program, it can seem difficult to try to get along with others that have all worked extremely hard to be in the same position. Some may think competition could get in the way of the group getting along, however, yearly bonding exercises such as nerf wars and quarterly group dinners are utilized to help everybody get to know each other, so in the long run, people feel more comfortable with one another.
"As a class, we work well together. We're goofy and have fun, but we know when to settle down and focus to finish a piece of music," said senior Charlotte Keys. "We do definitely have our days of ups and downs much like any other group would."
Despite the effort to work collectively as a group, disagreements happen. Someone doesn't sing as well as they should, one section doesn't try as hard, or annoyance kicks in. The ability to endure through tough times with both music and people is a necessary skill that many in Shades have learned to adapt.
Junior Jack Howard said, "I have learned how to be patient with others and how to persist as a whole group as opposed to myself as an individual."
Understanding how to cooperate with others, especially through times of disagreement aids in creating a group dynamic that strives to be better, which is a task students such as senior Millie Mayo have come to appreciate.
"I've learned that my peers continue to push me to better and better because I know in my heart they want what's best for me, which in turn is best for the group."
Shades of Blue is similar to other extracurricular activity. It involves quarrels among members, extra time dedicated outside of school, and a few good inside jokes that not a lot of other people would understand. Yet, it's not like any other club or extracurricular. These people are using their voices to create something amazing and in the process, fight, talk, and laugh just like a real family. That's what differentiates Shades.
"Shades of Blue has given me so many life lessons that it would be difficult to answer," said senior Charlotte Keys. "My friends have taught me what it's like to have a friendship in such a small ensemble. And most importantly, the group has taught me what it's like to sing with such a purpose and amount of compassion that can move people to tears."