Up to Date…Softball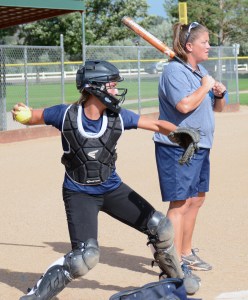 Hang on for a minute...we're trying to find some more stories you might like.
Softball (Currently 6-9-1, 2-3 5A Jefferson County League)
Looking Back:
Sept 22: RV 24, Lakewood 7
Sept. 23: Bear Creek 1, RV 0
Sept. 26: Pomona 6, RV 0
Sept. 29: RV 11, Chatfield 10
Looking Ahead:
Oct. 7: @ Dakota Ridge
Weekly Wrapup: The RV offense came to life in the Mustangs win over Lakewood on Sept. 22. The quartet of Gianna Browdy ('18), Abri Trujillo ('19), Sydney Stewart ('19), and Jordan West ('21) combined to drive in 17 of the Mustangs 24 runs. Stewart hit two home runs in the victory, and West and Trujillo also went yard in the win. Stewart, Kayee Cerrone ('19) and Laney Davis ('21) led RV with four hits apiece. However, after a great showing offensively against Lakewood, the Mustangs were shutout in consecutive losses to Bear Creek and Pomona. RV returned to the winning column with an 11-10 victory over Chatfield on Sept. 29. In the win, Abby Hochevar ('20) drove in three runs and Lexi Dunham ('19) had two RBIs. Freshman Madison Shepard had three hits in the victory.