Parking Herself at Ralston Valley
After leaving A-West two weeks into her sophomore year, Bailey Parker received an eye opener of what high school can be at Ralston Valley.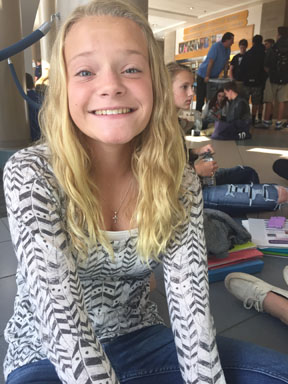 Hang on for a minute...we're trying to find some more stories you might like.
Since what feels like the beginning of time, Ralston Valley and Arvada West High School have been competing in the famous Arvada Rivalry. On one side, we have the thundering Carolina blue and white mustangs while on the other are the fearsome purple and black wildcats. The competition between the two schools persists in sports, academics, music, electives, you name it.
But for all of the activities going on it was hard to define a true champion. For example, Arvada West has an outstanding basketball team while Ralston Valley contains a superb football squad. Who is to say that one is better than another?
Bailey Parker, a sophomore at Ralston Valley, will finally be able to declare an accurate winner in the battle of the high schools.
Parker is new to the Ralston Valley Scene. "After completing my freshman year at Arvada West, I transferred to RV two weeks into my sophomore year."
This is a surprising shift from the young student but she explains, "I got to choose between either school because I moved into the Ralston Valley area and was already going to A-West. I ended up choosing RV."
This was no easy decision for Parker to make but after she analyzing her choices, she knew that Ralston Valley was the supreme choice. "When I was debating between the two schools I thought about how my mom had said that high school is one of the best times of your life. Being at A-West, I thought, at this rate high school is not even going to make it into the top fifteen times of my life."
Now on to the real question…Ralston Valley or A-West?
According to Parker, there is no debate. Ralston Valley is the clear champion. "I like Ralston Valley better because all of my friends go here and there is way less drama. That was one of the biggest deciding factors for me. I hate drama and wanted to get away from it."
The sophomore also describes her experience going to sporting events and pep rallies at Ralston Valley as compared to her time at Arvada West. "RV has way more spirit. Everyone cheers and at events people don't look like they would rather be somewhere else. They're having a good time! That isn't always the case for A-West students at their events."
Despite all of Ralston Valley's superior qualities, Parker does believe there is one drawback to mustang life. "RV classes are way harder. I liked the classes at A-West because they definitely made life easier and I had more free time. Plus, sometimes the schedule can be annoying. I have all of my academic classes on blue days, so it's four straight classes of paying attention without a break. That can be really hard."
However, the student still holds strong in her position. "Ralston Valley is rated as an 'A' school and A-West is rated as a 'C' school by Colorado School Grades. Now I know that this is because of the difficulty of academics, but I guess that Ralston Valley pushes students to become better."
Parker wants to make it clear however that she doesn't think Arvada West is a bad school – just that Ralston Valley is better.  "Honestly, my experience there wasn't that bad. I actually would say I had a pretty decent freshman year! I had friends there and I still do. Plus, there was a teacher that I loved. If I were to rate it compared to Ralston Valley so far, I would give my experience there a 5/10. RV would be a 10/10."