Making Wishes come True
StuGo hopes to raise over $17,000 for Make-A-Wish Week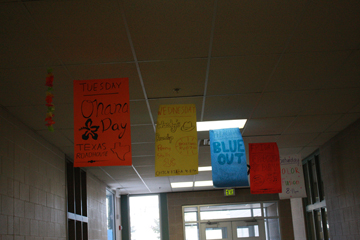 Hang on for a minute...we're trying to find some more stories you might like.
Every year, Ralston Valley hosts an annual Make-A-Wish fundraiser to help make that year's specific Make-A-Wish child's dreams come true.
This week, the school, backed by Student Government, is fundraising for Jennifer, RV's 2017 Wish child.
Jennifer's wish is simple. She wants to enjoy a Disney Cruise for her and her family.
With the help of the student body and faculty, StuGo hopes to raise $17,000. Students are encouraged to dress up and donate as much as possible.
Today, Jan. 30, is Hat Day and $2 must be paid to wear a hat. After today's events, dress up days all have a Disney theme to follow.
For Tuesday, dressing up like Lilo and Stitch and celebrating Ohana Day is what's being asked.
Wednesday brings around Woody's Roundup, so bring on the Wild West! Wednesday is also the Penny Stall, where all coins are given out during 3rd block to raise as much as possible.
Thursday is a Blue Out, where students are prompted to wear Jennifer's favorite color to the assembly that morning and entertain themselves by watching students take part in exciting games to make a special girl smile.
Also taking place will be the Miracle Minute, where RV raised $6,000 last year. It's quite a figure to beat, but RV students have always been up for a challenge.
Friday is Frozen day, so dress up as your favorite character from the movie or perhaps a more Coloradan approach and go in your ski/snow gear!
Voting for what music will be played during passing periods will be done throughout the week during lunches and played on Friday.
The Color Fusion Dance follows this festive week on Saturday, February 4.
Make-A-Wish granted more than 14,200 wishes in 2014 alone and can only grow through the donations of people like you.
Ralston Valley is asking for any and all donations that you or or your workplaces are able to give.
Any donation is sure to change this child's life as well as many other. Checks from businesses or students can be made out to Make-A-Wish Colorado and can be dropped off at Ralston Valley no later than Thursday, February 2.