The Impact of Make-A-Wish Week At Ralston Valley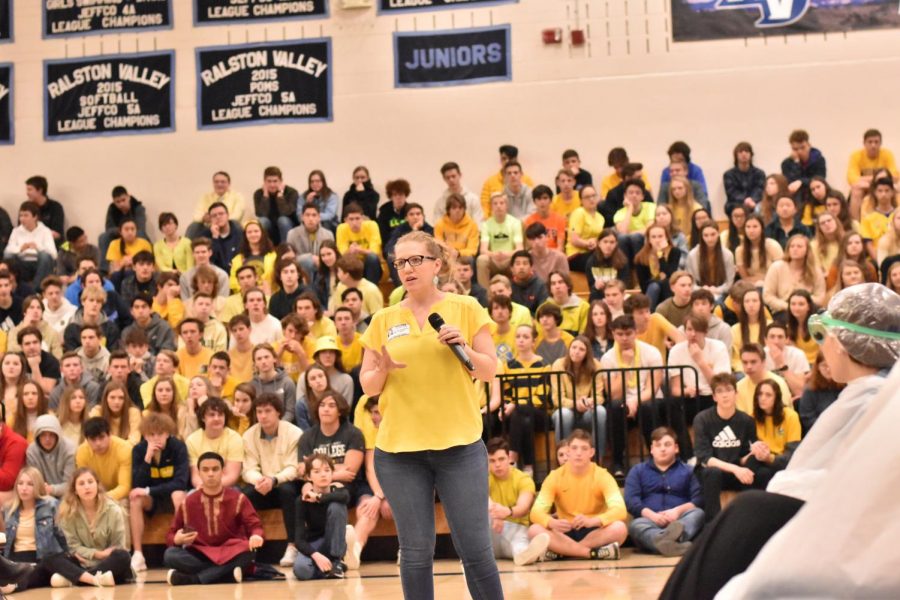 For this year's Make-A-Wish week, the student body raised money for a little girl named Alexa who has a chromosomal deficiency disorder and respiratory disease. Alexa and her "entourage" attended the school assembly Thursday, February 6, and students wore yellow to support her. She was also accompanied by her family and previous Make-A-Wish kids who have had their special wish come true. Alexa's wish is to go to Disney World, and in order to make that trip happen, along with granting additional wishes for other kids, RV was put to the task of raising $40,000. So far, the school has raised $35,000 from the week. Due to a snow day Friday, February 7, the annual volleyball tournament got pushed to February 21st.
In 2012, RV's student body president Connor Randall instituted Make-A-Wish week because he himself was a wish kid and felt the need to bring the RV community together to start a long-lasting tradition. In the first year of participating, the student body raised $6,833. By bringing in more activities and involving the local elementary schools, RV raised $35,767 in 2019, the most it has ever had. Student Government is in charge of this big project every year and puts on all the activities.
"Teacher involvement has helped us the most and the Miracle Minute after the assembly brings in a lot of money," said Mrs. Jenny Braketa, Student Government Sponsor. Another activity that brings money in is the Color Fusion Finale, the dance at the end of the week.
Former student Ayla Charness graduated from RV in 2019. She was a wish kid at age 8. At age 3, she was diagnosed with a blood condition known as Idiopathic Thrombocytopenic Purpura. She wished to go to Disney World and the Make-A-Wish foundation gave her a pass that let her skip every line at Disney. ¨Way back 10 years ago nobody fundraised for me because most schools including RV did not do fundraising for Make-a-Wish as they do now. But kids nowadays who are going through so much trauma can be brightened up by such an amazing week that is put on by these schools such as Ralston Valley," said Charness.
"Our school works with Colorado Make-A-Wish who has a list of kids and they match up the community and our goal with the kid," said Assistant Principal Mr. Tony Pergola.
Make-A-Wish week and Homecoming week look similar in that there is a lot of participation and fun after-school activities. "The energy is a lot different from Homecoming week. During Homecoming week there is a lot more class rivalry, but during Make-A-Wish week we all come together as a community to make an impact," said Mrs. Braketa.
Make-A-Wish week is a national event that many schools participate in, with Ralston Valley being one school that has helped make an impact that allows kids to let go of their worries and enjoy being a kid even though they have a critical illness. Ralston Valley has raised a total of $151,366 throughout the years\; this is equivalent to granting over 20 wishes.
"Our community has a very giving spirit, and the diseases these kids are facing is something everyone can relate to," said Mr. Pergola. "We have an entire community behind this project and it is really cool."